I am all about breaking the rules and pushing the boundaries of design, however there are some things that just do not work and are just bad design. Here is a quick list of the top 5 most common mistakes that I see in people's homes.
1. Using matching sets of furniture: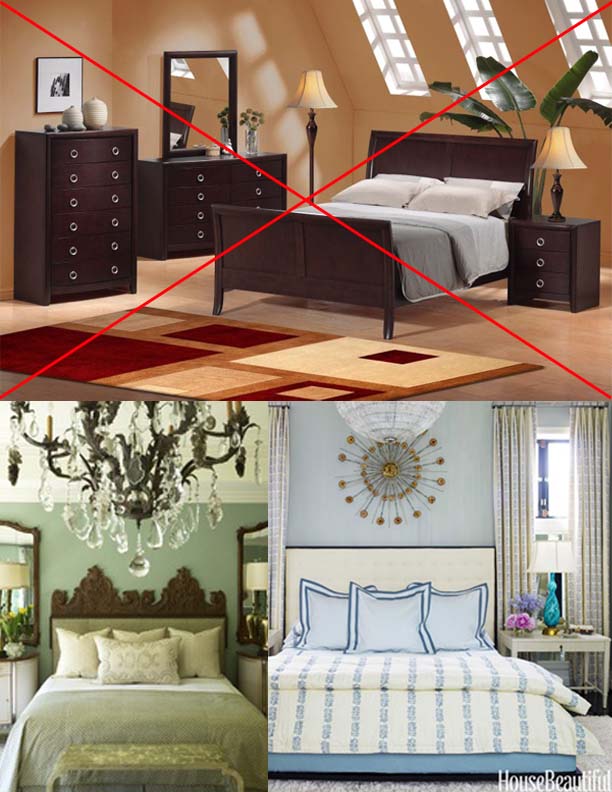 Nothing screams amateur and boring more than matching furniture sets. People get scared about pulling a look together so they walk into one store and just buy the entire bedroom set. Your space needs some creativity and it should look as though it evolved over time. If you are on a budget, mix low end, vintage and a few more expensive pieces to make your place look stunning. Remember vintage shops and local auctions are great places to find deals.
2. Beige overload: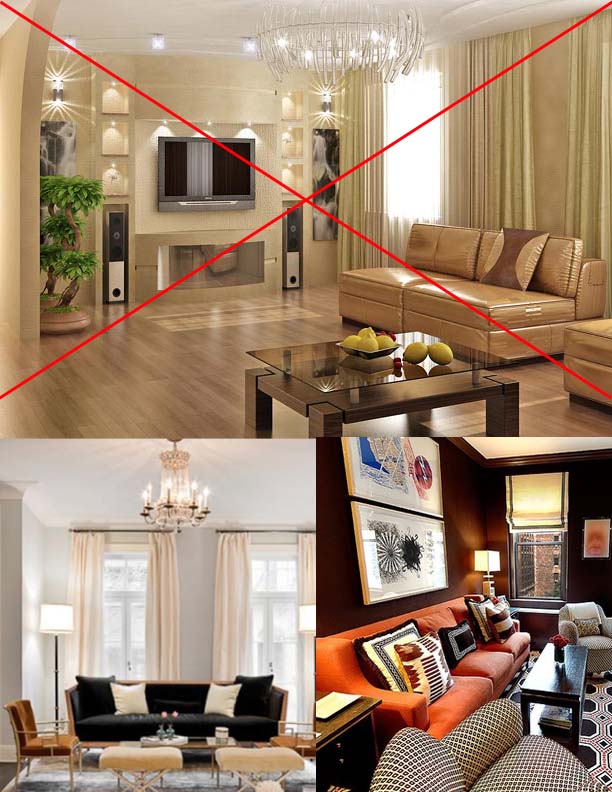 How many of you get nervous choosing paint or fabric colors so you just go beige? Neutrals are amazing when mixed with textures and accent colors but who wants to enter a room and get swallowed in a sea of boringness? Can you imagine if a woman put on beige blush, lipstick, eyeliner and mascara; it would be freaky and blah. Your eye needs to see contrasts. If you really want to choose only beige then pump it up with lots of textures and a touch or white, black or accent colors along with a glittering jewel of a light fixture.
3. No focal point: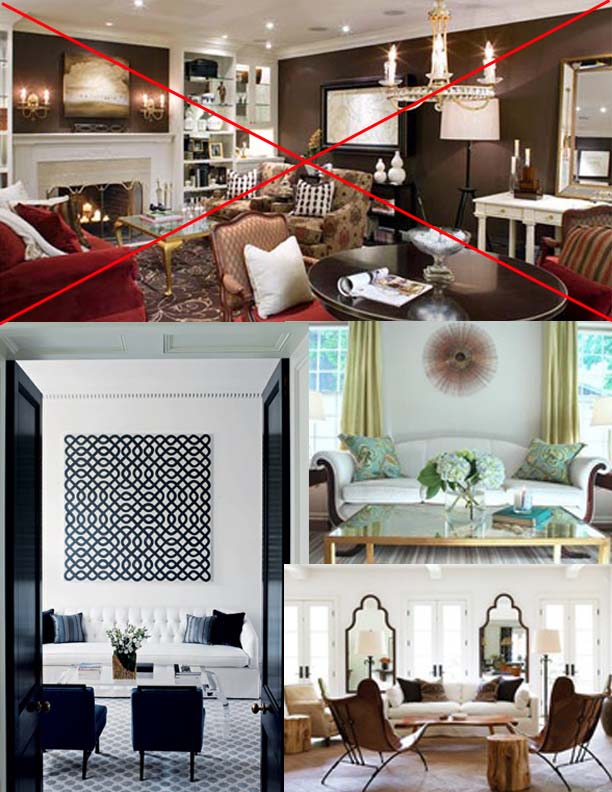 Every room needs a place that draws the eye. Whether it is the fireplace, a beautiful bookshelf, a gorgeous view framed by amazing curtains; find your focal point and don't be afraid to make it bold. Everything should not compete for attention or the eye gets fatigued and some of us get a headache. You need uncluttered and blank spaces for the eye to rest.
4. Incorrect Lighting: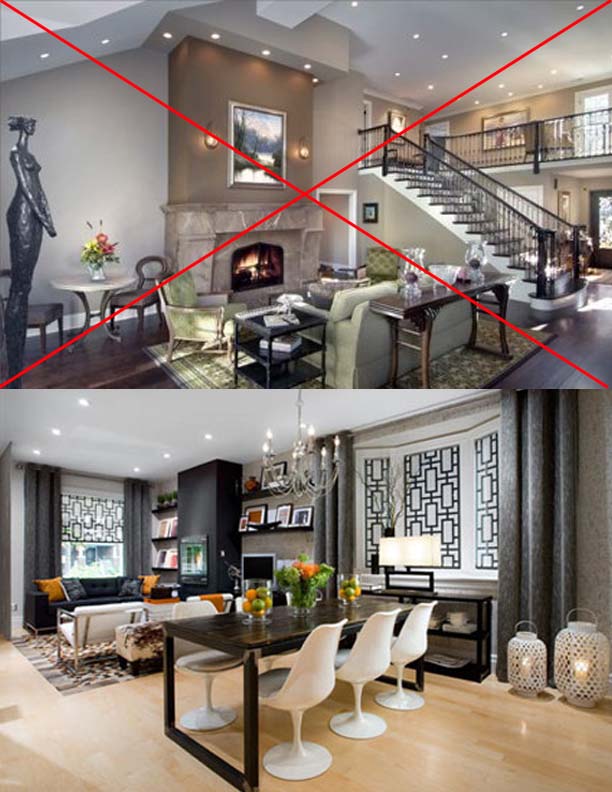 Lighting can be tricky since it is affected by everything in the room and it changes with the time of day. When considering how much lighting think about the colors of your walls, fabrics, floors and if you get a lot of natural light. Very dark furniture will absorb light so you will have to amp it up a bit. Also remember to consider what activities will take place in the room. If you are reading, studying or cooking, you will need more light than a room for TV watching or sleeping. If you are feeling unsure just use dimmers so that you can adjust the light accordingly. Do not go overboard and punch too many holes in your ceiling. Remember to put different kinds of lighting – lamps, pendants, recessed and even candle light and your space will be excellent.
5. Photos hung too high: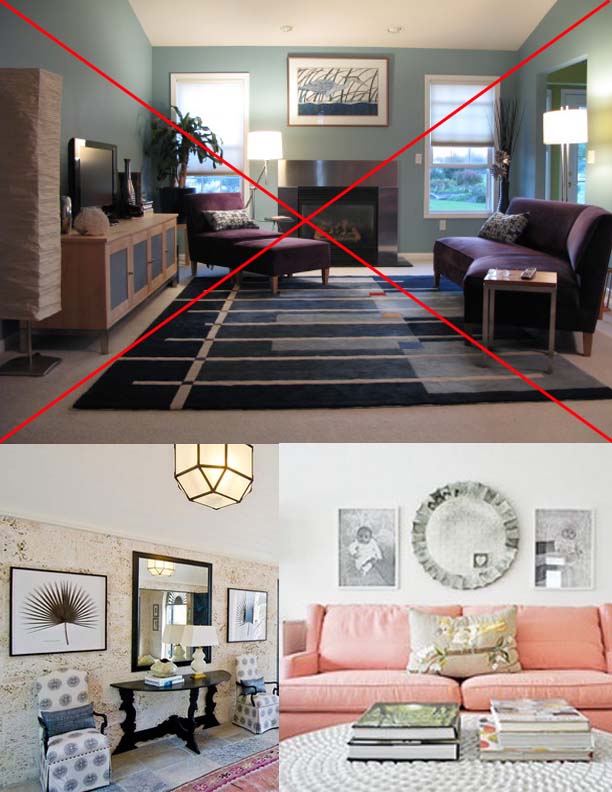 I cannot tell you how many times I have entered a home only to strain my neck trying to look at art and photos on the walls. Art and mirrors should be hung at eye level when standing and not so high that it will be uncomfortable to look at while sitting. Your art should not be more than about 6"-12″ above the sofa. Of course, there can be reasons to break this rule but just make sure you are breaking it for a good reason.